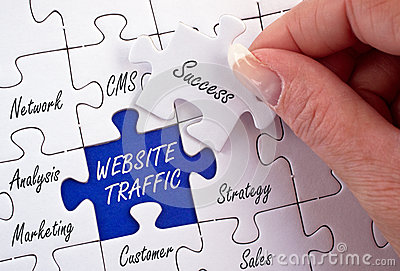 First of all let me say that the best thing you can do is try a handful of ways to get traffic to your blog and see what you like to do and what works for you. As you develop your online business you are going to branch out and get your traffic in multiple ways.
Some people will make the argument that you are better off becoming an expert on one or two forms of traffic generation than you are to try to tackle multiple traffic sources. There is certainly nothing wrong with this if you're getting an adequate amount of traffic and you are satisfied with the results.
My only point is that you won't really know what are the best traffic generation strategies for you if you don't try a few. Of course there are several things you're going to need to keep in mind.
1. Free traffic. This doesn't cost you anything to generate except some of the time you will spend to do it.
Blogging is a good example of free traffic. I can write blog articles all day long and promote my new blog posts in ways that generate traffic and don't cost me anything except my time.
Discussion forum marketing is another good example of free traffic. You can spend as much time as you want posting in discussion forums. If you do it correctly you will have a signature file with a link back to your blog. This can be fairly high quality traffic, but it takes time to participate in the discussions.
Here's one more example of free traffic. Post comments on other people's blogs. When you do this you can end up developing a relationship with the owner of the blogs you are commenting on, as well as generate traffic to your blog from their readers.
All of these examples of free traffic take a certain amount of time and effort on your part. When you value your time in a dollar amount, then you understand it is not really free traffic except that it doesn't cost you money out of your business checking account.
2. Paid traffic. The great thing about paid traffic is how quickly you can see results.
A good example of this would be a pay per click advertising campaign. Let's say you decide to invest a small amount of money doing Facebook ads.
You're going to know almost right away how many clicks you are getting and what the quality of that traffic is. This may be something you want to continue and even scale to a larger degree if it's profitable.
The same thing is true with other forms of PPC advertising such as Google Adwords or Yahoo-Bing Marketing. This is the fastest way to get on page 1 of these large search engines for keyword phrases that you're targeting relevant to the business you are in.
One disadvantage to paid traffic is you can lose money and run unprofitable campaigns very quickly as well. Another disadvantage is there's a learning curve in how to properly do these types of advertising.
Many Internet marketers don't have the skills it takes to do this. Especially if you are just starting out. For this reason you may want to hire a search engine optimization company to handle your advertising for you if your budget allows.
3. Social media. This type of marketing can deliver fantastic results for the amount of money you spend. We have already mentioned there are forms of free and paid traffic such as blogging and Facebook that can be good for generating traffic.
Participating in social networking sites such as Facebook, Twitter, and LinkedIn, is a good idea because there are prospects for your business and products there. The same thing is true with Pinterest, Instagram, and You Tube.
Actually You Tube is a whole separate category. It's now the third largest search engine in the world and can be an excellent source of traffic when you post your videos there.
Video marketing is not hard to do. You can use a service such as Animoto and create beautiful slide series videos with high definition graphics and music.
You can then upload them to You Tube with one click. Setting up the video is easy to do and you can link back to your blog in the description box.
If you really want to expand your video marketing create a blog post and embed your video in it. Google owns You Tube and they love to see videos published off of their site as well.
We can continue to write a very lengthy article, almost to the point that we need to create a report or write an ebook on traffic generation. To me all of this eventually becomes somewhat overwhelming. You can see the benefit of focusing on one or two proven traffic generation strategies.
Otherwise you're better to outsource as much of your online marketing to generate traffic as you possibly can. This could be everything from hiring a blog writer, or graphic designer, to hiring somebody from Fiverr to post blog comments and get Facebook likes for you.