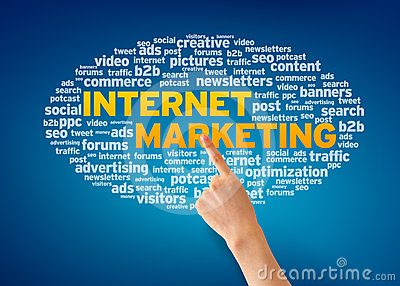 Starting an Internet marketing campaign can be both exciting and nerve racking at the same time depending on your level of experience. Marketing on the Internet is an excellent way to increase customers, inform prospects, and just plain get more traffic to your website or blog.
An Internet marketing campaign can be expensive both in time and money if you're not properly prepared. However, when done correctly it's an excellent tool that every business both offline and online should be using.
One important point to keep in mind is that you must go into setting up your Internet marketing campaign with a proper mindset. That's what we want to talk about in this article.
Here are a list of tips that can help you zero in on exactly what you are trying to accomplish, and how to go about doing that.
1. What is your mission? What exactly are you trying to accomplish with your Internet marketing campaign? It's a good idea to sit down and write out a few specific goals.
Some of the things you need to think about include are you trying to get more website visitors, are you trying to establish your brand, or is the bottom line you just want to make more sales. Having a clear understanding of this in your mind before you get started will help you in the following steps.
2. What is your message? It's extremely important that you understand what your message is so that you can get that across to your prospects in the Internet marketing you're going to be doing.
When someone sees your marketing message are they going to have a clear understanding of what your message is? For example, are you focusing on the product and its features and benefits?
Is your focus towards people who are already in the buying mode and you're just trying to let them know about the amount of money they can save doing business with you? Perhaps you are promoting something that's unique in the marketplace and you want to focus on that as your message.
Your message should be very clear to your prospect. You want to do this in a concise and focused way.
3. Who is your target market? Before you start your Internet marketing campaign be sure you understand exactly who you are talking to.
This means delving into the target market and understanding their personality characteristics. When you do this you can see zero your message in on exactly what are their needs, interests, and desires.
4. Where are you advertising? Today Internet marketing really starts with social media. This can mean different things depending on the type of advertising you will be doing.
The great thing about social media is you can target your message to a specific audience using Facebook, Twitter, You Tube, SEO, Pinterest, Instagram and so on.
The other thing to consider is whether you're going to be doing paid advertising or free advertising. Free advertising might include outsourcing social media including getting more Facebook likes, or tweeting on Twitter.
Paid advertising might include pay per click ads on Google or Facebook. There is such a wide range of potential advertising methods you could be using that you want to establish what you are going to be doing initially in your campaign.
5. How much are you willing to spend? It's basic business that you should have a clear budget in mind that you want to start out with. It's important that you're willing to monitor this very closely initially.
There are many horror stories of businesses who have spent $1000 in less than 24 hours on Google Ads because they really didn't understand how ppc advertising worked.
As a general rule you should start small and then scale after you've proven your results. Be sure you have proper tracking methods in place so you know where your traffic is coming from and how much it's costing you.
Starting an Internet marketing campaign is just the first step of what should be a long profitable relationship between your business and the Internet. If you are an offline business coming online this is a different approach than something you've done in the past.
If you are a new online business, you do have a learning curve ahead of you, but it is something that anybody can learn how to do. Be willing to invest a little bit of money in Internet marketing education and that can save you a lot of money in the long run.