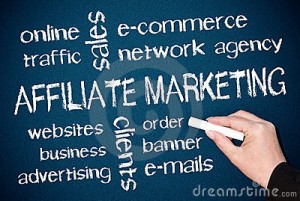 It doesn't matter whether you live in Australia, the United States, or anywhere in the world if you want to start your own online business. The Internet doesn't discriminate against you in any way.
Think about the power of that statement. It is doesn't matter where you live, the color of your skin, whether you went to college or not, how much money is in your bank account, whether you are male or female, or in any other way.
Here's the bottom line!
Anybody can start an online business and become successful, and there are literally thousands of proven examples of this. That's only important in that it offers you encouragement, but a more important question is how can you get started?
In this article we want to take a look at 5 proven business models using affiliate marketing that anyone can use to quickly start an online business of their own.
1. Pay per sale. Affiliate marketing is a business model this has been around for about 20 years now.
You may have purchased something on Amazon, and if you did you very well might have been on an affiliate marketing site. Amazon runs the largest affiliate program in the world and they pay out billions of dollars in commissions every year to their affiliates.
With Amazon you are using the pay per sale affiliate marketing method. It is free to join, and you make money whenever you sell a product on your Amazon affiliate website.
2. Pay per click. Another popular way to make money with affiliate marketing is Google Adsense. This is the largest pay per click affiliate program in the world, and Google pays out over $1 billion a year in commissions to their affiliates.
This is the easiest way to make money online because you don't have to sell anything. The program is also free to join and Google sells the advertising for you. They then match those advertisers to the theme of your website.
You place code on a web page and Google's algorithm brings up advertising a website visitor would be interested in. Whenever somebody clicks on one of those ads you earn a commission.
3. Pay per lead. Another way that people make money in affiliate marketing is known as cost per action programs. This simply means that you earn money whenever your website visitor completes the required action.
The most common form of this is called pay per lead. You make money whenever your website visitor completes a lead form.
This could be something as simple as entering your email address. It might require more information, and usually the more the website visitor is required to do the greater your commission will be.
The easiest way to find cost per action programs is to join an affiliate network for free. Offer Vault is a great website to do that at.
4. 2 tier affiliate programs. Most affiliate marketing programs only pay you by the click, by the lead, or by the sale.
However, there are two tier affiliate programs where you can earn money recruiting affiliates. Whenever the affiliate you sign-up makes a sale, gets a lead, or a click, you earn a smaller commission on that action.
This is similar to the network marketing business model except you only earn money on people you personally recruit. This is not a multi-level marketing plan because your earnings do not extend beyond the first level.
So, think of it this way. You can build your own sales force in a two-tier affiliate program and earn a six figure income on their sales. This is not hype, and it's being done all the time on the Internet today.
5. Start your own affiliate program. Is this a good option for you?
Millionaires have been created in the affiliate marketing world and one way to do that is to start your own affiliate program. This is a way you can make more money on literally hundreds or thousands of affiliates in your program.
There is a learning curve on how to do this correctly, and it is going to take a certain amount of work to get everything set up. You're also going to have to deal with your affiliates on a daily basis, as well as pay them according to the terms and conditions of your affiliate program.
One thing you might want to look at is starting a joint venture with somebody who has experience doing this. Another option is to use an existing affiliate network such as Click Bank and let them manage your affiliate program for you.
These are five proven business models using affiliate marketing that you can quickly start your own online business and generate income from.